Awards
The men and women nominated for fellowships at the International House of Artists Villa Concordia have generally already established names for themselves in their respective fields. It is therefore not surprising that many of them were already recipients of other respected prizes before their Bamberg residencies or have gone on to receive prestigious awards afterwards, as the following selection illustrates:
VISUAL ARTS
Wiebke Siem received the internationally renowned Goslarer Kaiserring 2014 during her 2013/2014 Bamberg residency. 2006/07 Fellow Luke Fowler was shortlisted for the Turner Prize in 2012.
MUSIC
There is no Nobel Prize for Music, but the Ernst von Siemens Music Prize is considered the equivalent. In addition to the main Music Prize, the Ernst von Siemens Music Foundation also grants Advancement Awards. To date several fellows have received Advancement Awards! One of them is currently in residence at the Villa Concordia: Philipp Maintz.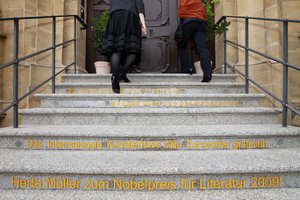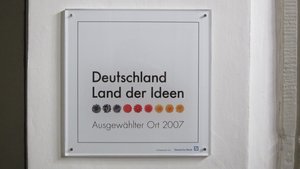 LITERATURE
The Georg Büchner Prize is the world's top literary prize for the German language. Arnold Stadler (2004/05 Fellow) was awarded the Georg Büchner Prize in 1999; and Sibylle Lewitscharoff (2011/12 Fellow) received the Georg Büchner Prize in 2013.
The International House of Artists Villa Concordia is also extremely proud to have a Nobel Prize winner in its midst: One year after completing her residency in the Villa Concordia, Herta Müller received the Nobel Prize for Literature (2009).
2009 was also the year in which 6 Swedish artists joined their German counterparts as fellows at the Villa Concordia. Perhaps this "Swedish connection" is behind the increased numbers of fellows whose names are mentioned as potential Nobel Prize winners of the future? The German author Ulrich Holbein, for example, was a 2009 fellow and has frequently made the UK "Ladbrokes" betting lists for the Nobel Prize in Literature (3rd place in 2011!). His 2009 Swedish colleague Fredrik Sjöberg stood in for the 2013 Nobel Prize winner Tomas Tranströmer at the first Munich Lyric-Nights event in 2013 – and took the opportunity to speak at length about his year as a Villa Concordia fellow.
Would that there were prizes awarded to Artist Houses! To our knowledge none exist (but we would be delighted to be proven wrong in this instance…). Nevertheless, in 2007 the Villa Concordia was honored as a "Place in the Land of Ideas" by the Germany: Land of Ideas Initiative.
We see the Bavarian State Ministry of Culture's decision to appoint an artist as director of the Villa Concordia as a special honor all its own: In the five years since her 2010 appointment poet Nora-Eugenie Gomringer has received top awards, including the Jacob Grimm German Language Prize and the Joachim Ringelnatz Prize. Her initial five-year contract has now been extended permanently and in 2015 she won the Ingeborg Bachmann Prize!